G Tab FT9 smart watch, AMOLED screen, prayer times, tasbeeh counter, Holy Quran recitations, with an additional silicone strap
Tax included.
Hurry up! Sale Ends in
%-D
%!D:Day,Days;
%-H
%!H:hour,hours;
%-M
%!M:min,mins;
%-S
%!S:sec,secs;
sold in last hours
People
are viewing this right now
FREE SHIPPING NOW
Guaranteed Safe Checkout
Description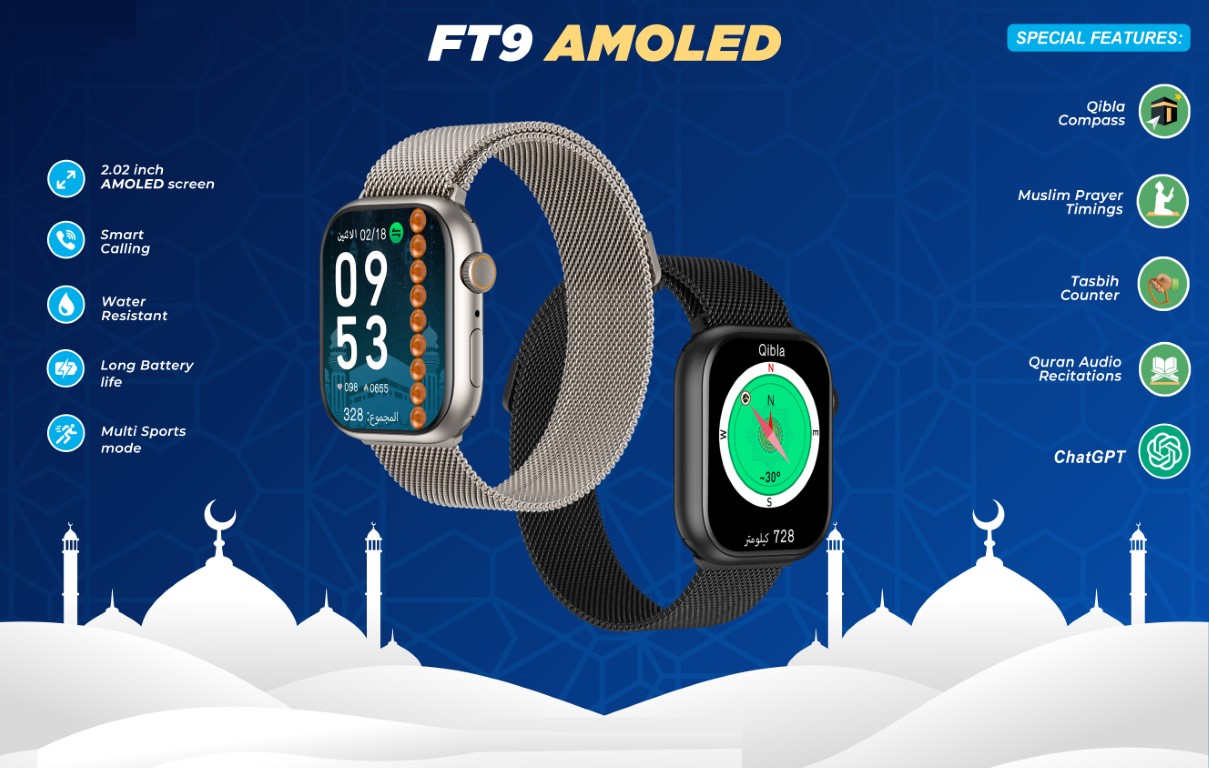 ✅Prayer times, 🕋
✅ Tasbeeh counter 🕋📿
✅Audio recitations of the Holy Quran 🕋🕌
✅Qibla direction 🕋
All in the palm of your hand.
✅ Loud voice calls, clear SMS notifications, weather mode 🌤️⛈️🌦️
✅2.02-inch AMOLED screen with high clarity ✔️and fast and smooth control ✔️.
✅Battery 230 mAh.
✅ Memory 256 MB.
✅Enjoy perfection during your workouts by supporting many sports modes.🏃🏻🤾🏻‍♂️🏀
✅Your health is in your hands 💯. Choose to push it and beat it with the health features built into the watch ✨👌.
✅The watch comes with an easy-to-wear magnetic metal bracelet and an additional luxury bracelet.✔️
✅Monitor hours and depth of sleep,
✅ Heart rate monitoring,
✅Voice assistant
✅Calorie monitoring,
✅Warranty 2 Years💯💪
G Tab FT9 smart watch, AMOLED screen, prayer times, tasbeeh counter, Holy Quran recitations, with an additional silicone strap
350 AED
Product deals of the day
End in: 23 hours
%-D
%!D:Day,Days;
%H:
%M:
%S